Segelmacherei Tuchwerkstatt
Segelmacherei Tuchwerkstatt (owner: Sebastian Hentschel) currently has fourteen employees and three trainees and offers service and advice in all areas of yacht and traditional ship equipment. Founded in 2006, it was initially located in the old rigging building on the premises of the Greifswalder Museumswerft e.V.. In 2014 it moved to the new workshop directly opposite the listed shipyard halls. All projects are now arranged on two levels, with the 200 m² drawing loft as the centrepiece.
The Tuchwerkstatt is closely linked to the Greifswald museum harbour and the museum shipyard, not just in terms of space. As well as fitting out modern cruising and regatta yachts, the Tuchwerkstatt is one of the few sailmakers in Germany who have specialised in the production of traditional sails - from the hand drawing, to the outline on the drawing loft, to the materials used and old techniques such as luffing, centuries of craftsmanship are lived and taught here.
Friends and customers of the Tuchwerkstatt can meanwhile be found throughout the North Sea and Baltic regions. The company presents itself every year at the major German ship exhibitions (boot Düsseldorf, Hamburg Boat Show/formerly Hanseboot, Boatfit Bremen until 2016) as well as at supra-regional ship meetings and major maritime events (Vinden Drar, Hanse Sail Rostock, Forbundet Kystens Landstevnet, Greifswalder Gaffelrigg, Risör Trebatsfestival, Hamburg Hafengeburtstag, Kieler Woche, Warnemünder Woche, Baltic Sail...).
Range of products and services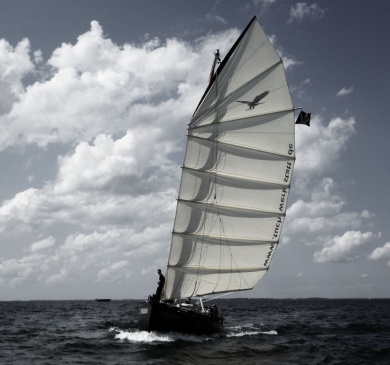 The range of products and services of Tuchwerkstatt comprises:
Cruising, racing and light wind sails
Traditional sails (square, gaff, lug, spritsail)
Junk sails, modification included (drawing/calculation of the rig, mast construction)
Reef systems
Sun sails and awning
Boat cushions and mattresses
Covers, tarpaulins and full tarpaulins
standing and running rigging
Canvas Bags, Rigging bags, gifts awning
various pieces of equipment
Tuchwerkstatt on the road
We want to use this base in Greifswald and our network of regional and international partners in the maritime trade (boatbuilders, sailmakers, cloth manufacturers, naval architects, outfitters, educational institutions, etc.) as a "travelling salesman" to provide good service and consulting with Bjørnsund regardless of location, to share our expertise and at the same time further expand our treasure trove of experience.
Contact
Segelmacherei Tuchwerkstatt
Salinenstraße 24
17489 Greifswald,
Germany
Phone: +49 3834 77 65 64
ahoi@tuchwerkstatt.de
www.tuchwerkstatt.de
Mon - Fri 8:00 bis 17:00 Uhr
Sat 8:30 bis 13:00 Uhr